FIRSTINFO Tools B2C Warranty
The FIRSTINFO Tools Warranty Policy
※All FIRSTINFO Tools quality assurance products come with a warranty.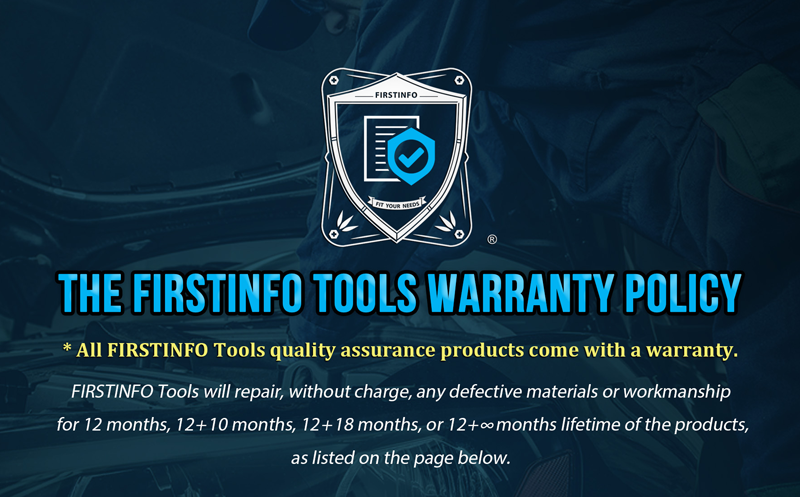 We've provided a basic 12-month limited warranty for all products from any official certificated sales channel under normal use from the date of purchase. (Before 2022/07/31)

For those who purchased FIRSTINFO's Tools from any official sales channel (after 2022/08/01) with a basic 1-year warranty. We provide some series of products with an extra extended registered warranty. Please register on FIRSTINFO's website and get the extra extended 10-months / 18-months / ∞Months Limited Warranty for free.
FIRSTINFO Tools will repair, without charge, any defective materials or workmanship for 12 months, 12+10 months, 12+18 months, or 12+∞months lifetime of the products, as listed on the page below.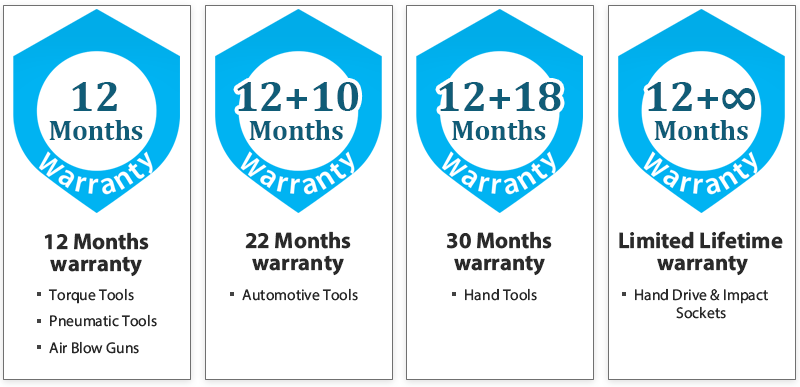 【12 Months】: Torque Tools, Pneumatic Tools, Air Blow Guns
【12+10 Months Extended Limited Warranty】: Automotive Tools
【12+18 Months Extended Limited Warranty】: Hand Tools
【12+∞Months Extended Limited Lifetime Warranty】: Hand Drive and Impact Sockets

Please register on FIRSTINFO's official website and send a message to us from "contact us" with your purchase information (purchase platform, purchase date, order number, product number) to get the extended warranty service.

What is Covered?
FIRSTINFO Tools products are designed to fulfill higher performance. If a FIRSTINFO Tools product is used as intended and it breaks down within the warranty period, it's our responsibility to repair or replace it.
Repair
If something goes wrong, please contact us and we will solve the problem for you.
Replace
If we are unable to repair your product, we will replace it for you.
What is Not Covered
The FIRSTINFO Tools Limited Warranty does not apply to some circumstances. The detailed information is listed below:
What's not covered?
* Purchases of tools from unauthorized dealers or sellers.
* Improper installation or disassembly.
* Normal wear and tear.
* Lack of maintenance.
* Accidental damage.
* Damage because of use not in accordance with user manual.
* Damage from external sources from force majeure events such as war, riots, armed conflicts, natural disasters…
* Faults caused by:
* Negligent use, misuse, abuse, or careless operations
* Use of FIRSTINFO Tools product not in accordance with the FIRSTINFO Tools operating manual or video.
* Use of parts not assembled or installed in accordance with the FIRSTINFO Tools instructions.
* Calibrations, repairs, or alterations are carried out outside our authorized facilities and agents.
*FIRSTINFO reserves the right to the final decision.